2022 KYF® Fall Flag League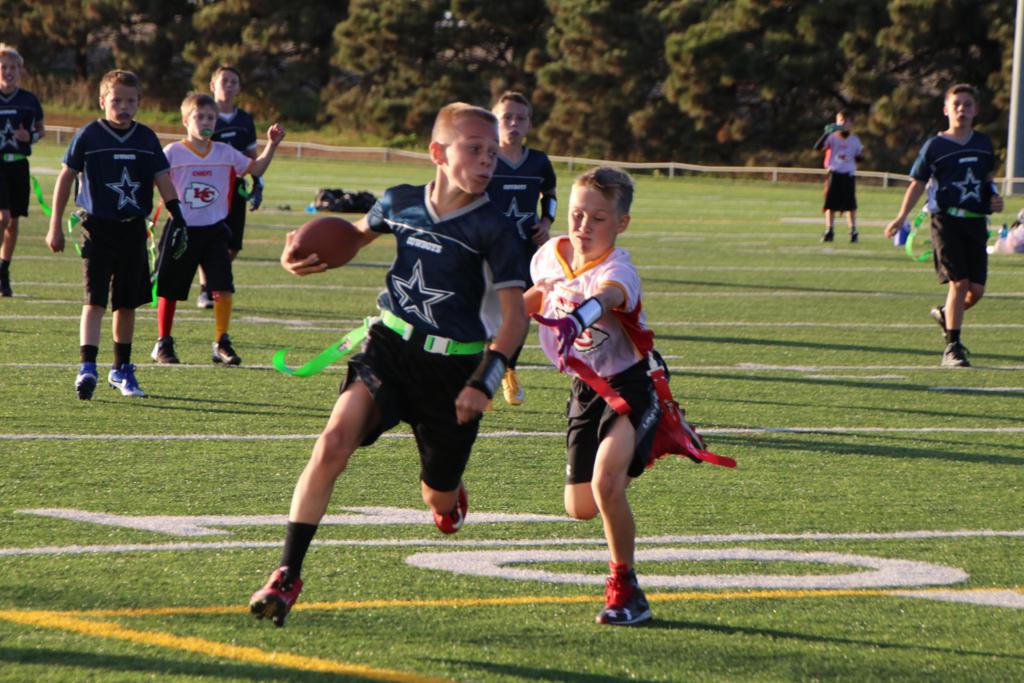 KYF® 2022 Fall Flag
Football Registration is

OPEN
$150.00 for KYF
®
Flag – Best in Katy – Most to offer!! with the $25 Early Bird Discount till 4/9/2022
KYF® has always been about more than Football, with a motto of "Doin' it for the kids"! KYF® is about families, friendships, and bringing people together. KYF® is about supporting the communities it serves, by providing as many opportunities to participate and come together as possible. The life lessons learned thru all levels of Football are endless. Tackle Football, Flag Football, and 7on7 Football all provide exposure to valuable life lessons that are unforeseen in other sport. After all, Football is Football, and KYF® is here to provide a safe, structured environment for Football for ALL!
KYF® is proud to continue our existing Flag Football Program from Kindergarten all the way thru 6th Grade!! That's right, KYF® will conduct a fall flag league for all grade levels, in addition to our fall tackle league. This will allow more families to participate with KYF® and reap the great benefits of playing Football! The KYF® Flag game will be a developmental game that focuses on fundamentals and sportsmanship, and it will be progressive in nature as children age in an effort to ensure all children thrive and have additional avenues and entry points to enjoy this great game! The KYF® 1st grade thru 6th grade Flag League will have post-season playoffs, and KYF® will offer the Championship Games at one of the illustrious KISD Stadiums. KYF® is very thankful for the support of the Katy Independent School District, and we look forward to showcasing Flag Football thru 6th grade in our Katy Community!
KYF® is excited to announce we will continue to offer a custom jersey for the 2022 season. This will include your last name and jersey number, and all the features you have come to expect. This will apply to both the Flag and Tackle Programs. We are very excited to be able to offer such amazing products for our players and families! Also, KYF® will honor our whole team review process for any Existing Flag Teams who are interested in joining KYF® as a team for the 2022 Flag Football Season!
KYF® is excited to continue to offer our Coaches, Parents, and Players the opportunity to actively build out their teams. For more details and specifications please refer to our Administrative Rules & Guidelines posted in the FORMS section.
Things You Need To Know For Fall Flag League
We get tons of great questions throughout the registration period. Here are some things to know about the upcoming season and may hopefully clear some things up.
We offer an 8-week regular game schedule, plus the possibility of 2 additional games for playoffs (depends on your division). If your team makes it to the Turf Bowl, your player/cheerleader will have the unique opportunity to play the big game at one of our illustrious KISD Stadiums! We are the only league that offers that kind of opportunity!! 

Games start September 2022.

Practice will begin when announced by the league for both football and cheer. No practices should be taking place before that date. At this time, practice will not begin until some point on or after August 2nd.  The official date will be communicated once set.   No team gathering of any kind is permitted until the league announces practices may begin.

Practice locations, days, and times are determined by the Head Coach and will be discussed with you once the coach receives his rosters (in July).

All games are played on Saturdays

Each football team is required a minimum sponsorship of $500 and each cheer team is required a minimum sponsorship of $300. This can come in the form of one or several company sponsorships, or a team collection. Sponsor funds are essential assets needed by KYF® to cover expenses. Registration fees do not cover the multitude of expenses KYF® incurs to provide Katy Style Youth Football. We rely on sponsorship revenue to keep our registration fees down.
2022 Fall Flag Football Divisions
| | |
| --- | --- |
| Fifth/SixthGrade Flag | 5th/6th Grade – (Cannot turn 13 yrs old before Sept 1, 2022) |
| Third/Fourth Grade Flag | 3rd/4th Grade – (Cannot turn 11 yrs old before Sept 1, 2022) |
| First/Second Grade Flag | 1st/2nd Grade – (Cannot turn 9 yrs old before Sept 1, 2022) |
| Jr. Flag | Pre-School and Kindergarten – (Must be 4 by Sept 1, 2022 and cannot turn 7 yrs old before Sept 1, 2022) |