KYF® 2021 7on7 Game Schedules & Field Map
2021 KYF® 7on7 Game Schedules
Katy Youth Football® extends a big thank you to our loyal supporters, and to all those who registered to enjoy the 2021 Spring Flag and SPring 7on7 football season. KYF® is proud to hold the reigns as the premier youth football organization in Katy, Texas; and proud to be recognized as one of the top leagues in the country! Thanks to you we are one of the largest 7on7 programs in the State of Texas. KYF® is proud to have the continued support of our community and a solid reputation for professionalism, player safety, and sportsmanship. KYF® values player safety and stands to unite children and families through football and cheer.
Please understand we are all still faced with difficult challenges due to the ongoing Pandemic! Thank you for registering with KYF®, and we hope you have a great experience this Spring despite those challenges! With that said, we must ensure everyone abides by the Public Health Guidelines issued by the Texas Department of State Health Services.
Please understand you MUST adhere to the guidelines POSTED HERE for Youth Sports Families and screen your child and family members prior to attending KYF® Practices and Games!  Please follow the guidelines posted above very closely, and if you have any questions please contact KYF® at info@katyyouthfootball.com
Please be aware there are risks for transmission of COVID-19 in public settings.  Even though the risk of transmission is low in outdoor environments, all families must continue to social distance from each other and maintain a separation of at least six (6) feet at all times from others not part of your household while attending practices and games. The use of non-medical face coverings or masks that completely cover the nose and mouth is highly recommended for all spectators, and six feet of social distancing must be maintained at ALL times with or without a mask.  Please be aware, COVID-19 poses the greatest risk to those 65 years and older, and those with underlying medical conditions. Therefore, we ask that if you are 65 or older, or suffer from underlying comorbidities, please stay home and do not attend games, and do not attend any KYF® Practices! Additionally, please be aware that your children who participate in KYF® 7on7 Practices and Games, as well as other members of your household who attend games, should avoid ALL direct contact with anyone 65 years or older for a minimum of 14 days after participating in a sports event or practice!
NOTE:

You have an obligation to IMMEDIATELY inform your coach AND the KYF® Health & Safety Committee via email @ COVID@katyyouthfootball.com if your child or anyone from your household develops symptoms of COVID-19, tests positive for COVID-19, or is deemed to have had close contact with another individual confirmed positive for COVID-19.  In that instance, everyone in your household must IMMEDIATELY suspend from attending any further KYF® Practices or Games, until you have been approved to return by the KYF® Health & Safety Committee.
By working together and following the guidelines issued by the Texas Department of State Health Services, we can all enjoy a great summer season of recreation while continuing to value safety!
Please see below for the final 2021 Spring Flag and Spring 7on7 Game Schedules, and please reference the field map for the Morton Ranch Complex or the Mayde Creek Complex in advance to find the specific location for your field.
2021 7on7 Field Map: Morton Ranch Complex (Flag Division, 5th, 7th, 8th & 9th Grades)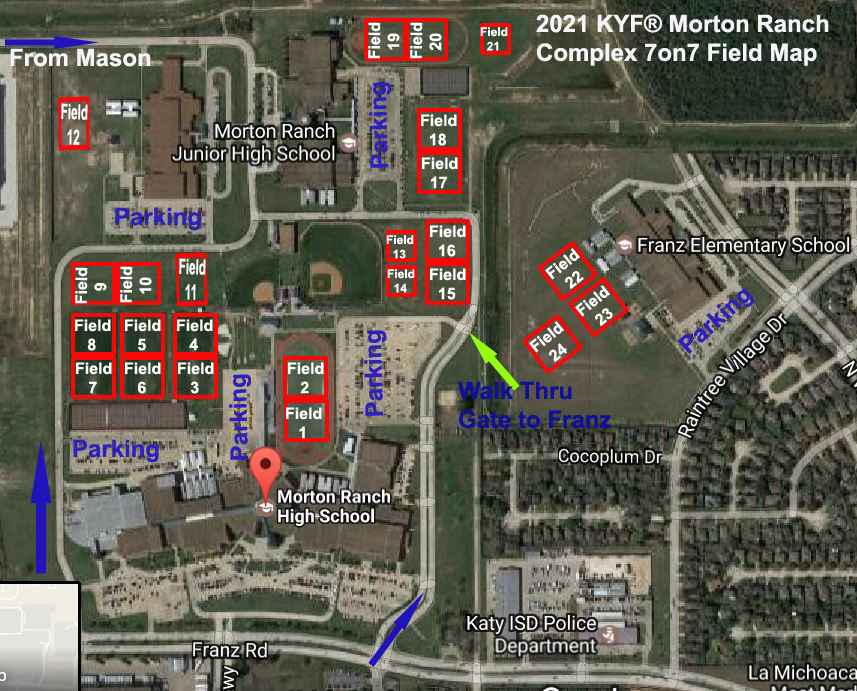 2021 7on7 Field Map: Mayde Creek Complex (2nd, 3rd, 4th, & 6th Grades)