2023 KYF® Spring Flag & 7on7 Season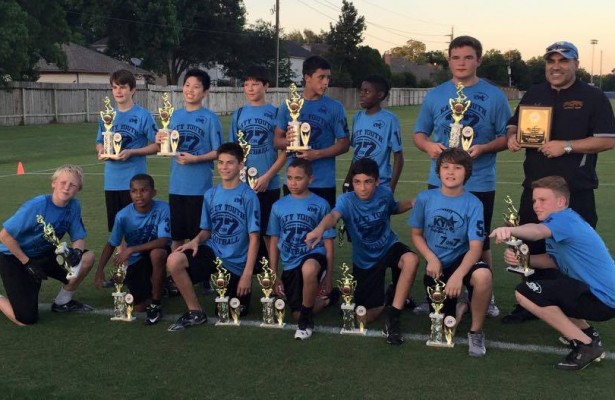 2022/2023 Spring Flag Pre-K Thru 1st Grade
2022/2023 7on7 2nd Grade Thru 10th Grade
2023 Spring Flag & 7on7 Season Dates:
April  21, 2023 – Week 1
April 28, 2023– Week 2
May 5, 2023 – Week 3
May 12, 2023 – Week 4
May 19, 2023 – Playoffs  Championship
7on7 is very much like backyard football. It is a passing only game and one hand touch anywhere to down the receiver. Basically, 5 boys go out on pass routes against 7 defenders. The defense can play man-to-man defense or a zone. The center is not an eligible receiver and the QB must pass the ball down field within 6 seconds or the play is dead. The game is played on 45 yard fields with a first down every 15 yards. The offense only gets 3 downs to make a first down. All boys love 7on7 because of its similarity to backyard football. It doesn't matter what position you play in tackle football, every player will get to go out on pass routes. Rory Robertson (Rory.Robertson@katyyouthfootball.com) will be the primary point of contact for KYF® 7on7 going forward. Robert Cortez ( Robert.Cortez@katyyouthfootball.com) will be assisting Rory with this process. Please direct all additional questions to them. Above is the link to sign up.
Register for KYF® 2023 Spring 7on7: (OPEN) CLICK HERE TO REGISTER