KYF® Equipment
Get your Riddell Gear Thru our Exclusive Discounted KYF® ordering sites!!
Navigate to the sites below to find the color for your team.  We have sorted colors based on typical conditions.  Please make sure you check with your head coach before ordering a specific color.
Texans, Titans, Falcons, Eagles, Seahawks, Steelers, Bears, Ravens and Broncos: CLICK HERE
Dolphins, 49ers, Cowboys, Saints and Cardinals: CLICK HERE
Packers, Panthers, Lions, Giants and Jets: CLICK HERE
KYF® has partnered with Academy Sports + Outdoors to offer their everday low prices, as well as exclusive shopping events with even deeper discounts!
SAVE THE DATE:  Saturday – July 16, 2016.  KYF

®

Exclusive Shopping Event at Academy Sports + Outdoors.
Both Katy Area Stores will have additional inventory on hand on 7/16/2016 for all of your shopping needs.  Discount offer during the KYF® Exclusive Shopping Event applies to all items in store, excluding ammo and firearms.  So – Come out to save big on any of your Sporting Good Needs.  Both stores will have color helmet options to accomodate all football teams.  After speaking with your head coach in early July, head to Academy Sports + Outdoors (Both Katy Locations) to buy your custom colored helmet from a variety of great manufacturers.  Academy Sports + Outdoors staff can also help check for a proper fit to ensure your child has the best fitting gear possible.  Remember, a properly fitted helmet and shoulder pads is paramount to safety!  Click on image below to print out coupon for EXCLUSIVE KYF

® 

SAVINGS!!!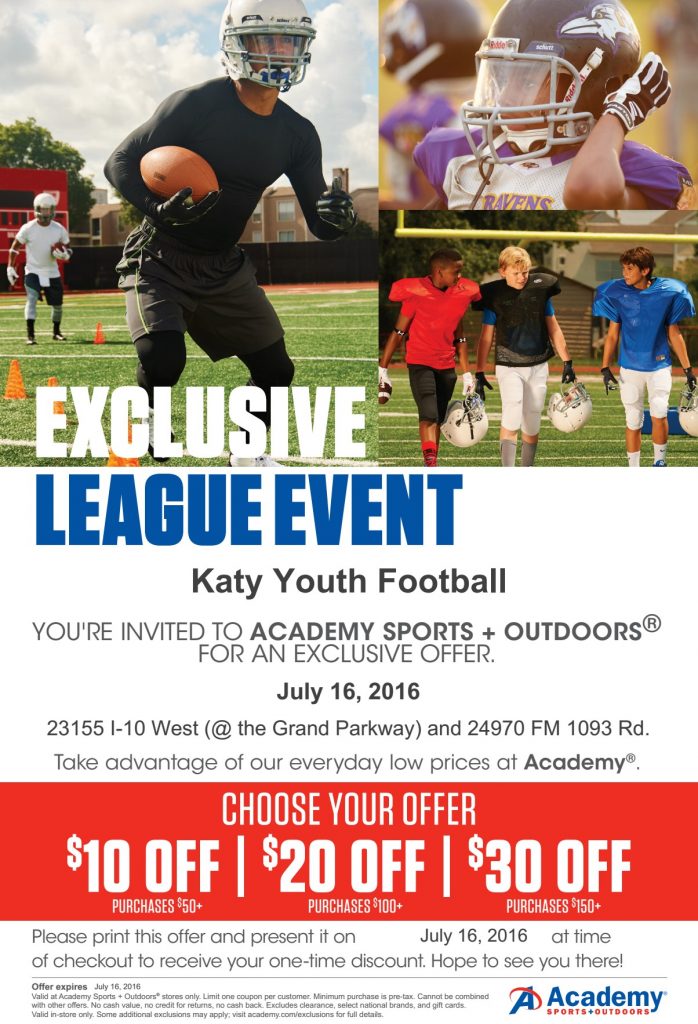 If you have any questions please feel free to contact Delonia Cooley@ dcooley@katyyouthfootball.com
Thank you all for joining us for another GREAT season of KYF® football and cheer!